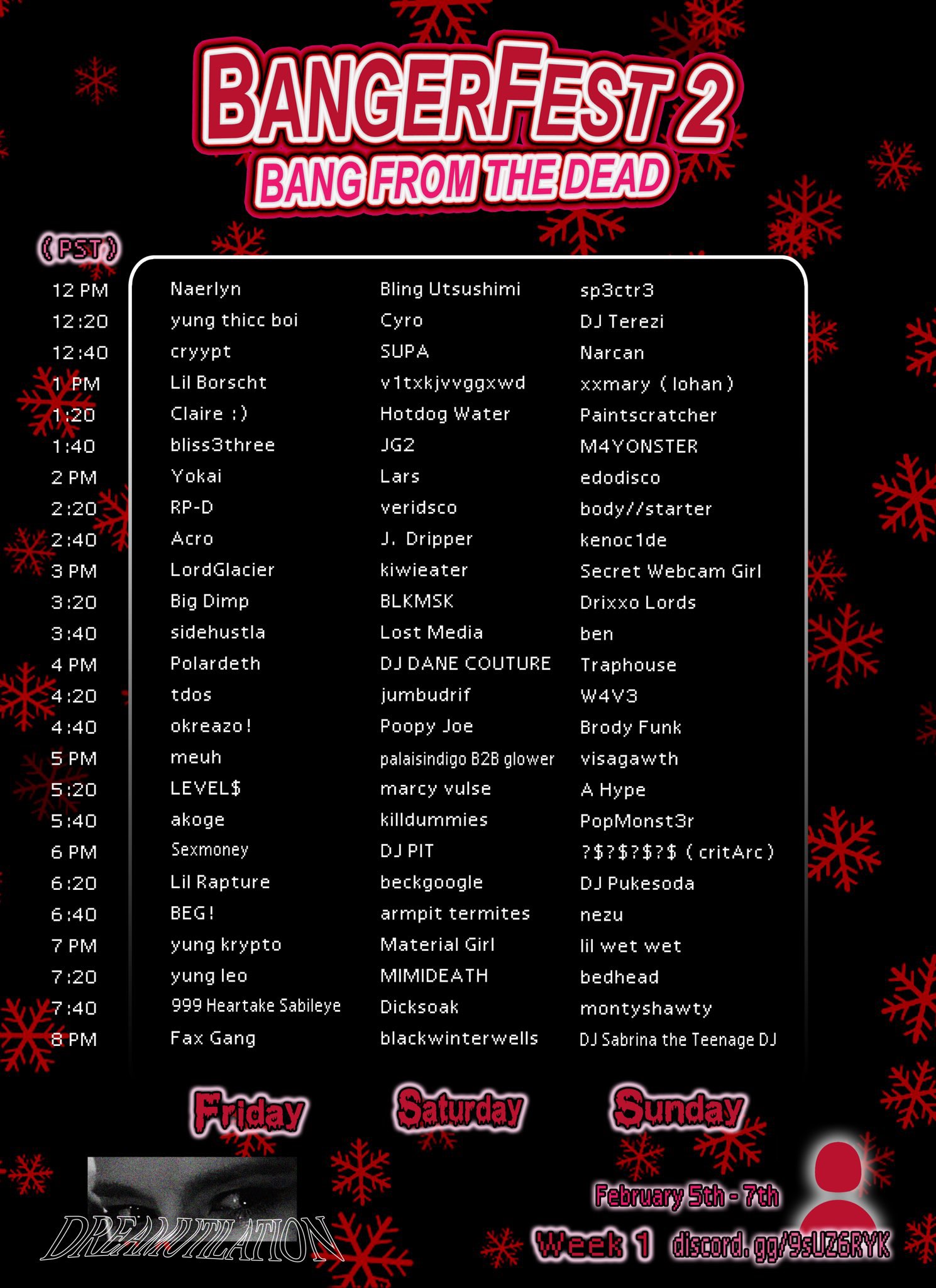 BANGERSQUAD and DREAMUTILATION present BANGERFEST 2: BANG FROM THE DEAD, a two week URL fest celebrating the music of the internet, featuring memorial sets for 6 Dogs and SOPHIE.
The festival will be spanning the course of 2 weekends, 6 days, and will feature 150 artists. The full lineup is as follows:
Day 1
Fax Gang
999 Heartake Sabileye, yung leo, yung krypto, BEG!, Lil Rapture, Sexmoney, akoge, LEVEL$, meuh, okreazo!, tdos, Polardeth, sidehustla, Big Dimp, LordGlacier, Acro, RP-D, Yokai, bliss3three, Claire :), Lil Borscht, cryypt, yung thicc boi, Naerlyn
Day 2
blackwinterwells
Dicksoak, MIMIDEATH, Material Girl, armpit termites, beckgoogle, DJ PIT, killdummies, marcy vulse, palaisindigo B2B glower, Poopy Joe, jumbudrif, DJ DANE COUTURE, Lost Media, BLKMSK, kiwieater, J. Dripper, veridsco, Lars, JG2, Hotdog Water, v1txkjvvggxwd, SUPA, Cyro, Bling Utsushimi
Day 3
DJ Sabrina the Teenage DJ
montyshawty, bedhead, lil wet wet, nezu, DJ Pukesoda, ?$?$?$?$ (critArc), PopMonst3r, A Hype, visagawth, Brody Funk, V4V3, Traphouse, ben, Drixxo Lords, Secret Webcam Girl, kenoc1de, body//starter, edodisco, M4YONSTER, Paintscratcher, xxmary (lohan), Narcan, DJ Terezi, sp3ctr3
Day 4
Dirty Bird
Kevin & the Bikes, Mid March, Subsad, DJ Whiteclaw Assclap, Booon! Booon!, CONNORPARTY, Hashirat, ben yosei, N3K0, oscarhw, wishbone, im6ges, 3NL1GHT3N, FRSKN, DJ ALMONDMILKLOVER, Asher Stuge, AngelRivrss, ilysm B2B sor uh, BitCrush!, thyme, lisamillerdigital, Pchs, Kevo Kevi, .index
Day 5
Fraxiom
They Are Gutting a Body of Water, SATURNULTRA, AOL, Jack Anderson, Jacob Terkel, Decay as Beauty, Bronclair, Slushh, Beluga Bay, ZBITO18, roshyw, Sidney Phillips, apod, Rural Internet, Housekeeper, julien, GOYACONNECT, Wickett, Unknown Damage, y2kaleb, Pays Garcia, Thad, what even, bri (Missing Insignia)
Day 6
DJ Rozwell
99jakes, mastercard, HIVEMIND Riley & Graydon, Vantana Row, Yufi, Phixel, November Suite, iANO, Button Maker, DJ WEEDMONEY, Sterling Bidler, 4ether, jacob lean, zoryan, ross, yung donvn, front hole, sixxott, Isixw, Ric Caesar, Brody Egan, zeroultr4, DJ 7th Plastic, naisu
Week one is February 5th-7th while week two is February 12th-14th. Starting at 12 PM PST.
Join Here: